Also Known As
Urine test
Urine analysis
This article was
last reviewed
on
This article was
last modified
on 9 May 2022.
On admission to a hospital; preparation for surgery; as part of a medical examination; or when evaluating a new pregnancy. It may be done if you have tummy or back pain, frequent or painful urination, or blood in the urine
Sample of urine (20-50 mls) in a sterile container; the first urine passed in the morning is preferred.
Urine for urinalysis however can be collected at any time. The first morning sample is the most valuable because it is more concentrated and more likely to demonstrate abnormal results if there is an underlying problem e.g. blood from bleeding in the urinary tract.
Because of the potential (particularly in women) to contaminate urine with bacteria and cells from the surrounding skin, it is important to first clean the genitalia. Men should wipe the tip of the penis; women should spread the labia of the vagina and clean from front to back. As you start to urinate, let some urine fall into the toilet, then collect a sample of urine in the container provided.
No test preparation is needed
This test identifies and measures some of the by-products of normal and abnormal metabolism, cells, cell fragments, and bacteria in urine. Urine is produced by the kidneys, which filter wastes out of the blood, help regulate the amount of water in the body, and conserve proteins, electrolytes, and other compounds that the body can reuse. Anything that is not needed is excreted in the urine.

Several diseases can be diagnosed in their early stages by detecting abnormalities in the urine. Abnormally high levels of glucose, protein, bilirubin, red blood cells, white blood cells, crystals, and bacteria can indicate disease. They may be present because:
1) There are elevated concentrations in the blood which spill over into urine
2) Kidney disease has made the kidneys less effective at filtering or
3) An infection has put bacteria and white blood cells into the urine .
A complete urinalysis consists of three distinct testing phases:
Visual examination, which evaluates the urine's colour, clarity, and concentration;
Chemical examination, which tests chemically for a number of substances that provide valuable information about health and disease; and
Microscopic examination, which identifies and counts the type of cells, casts, crystals, and other components (bacteria, mucous ) that can be present in urine.
See below for details of these examinations.
Today, a routine urinalysis consists of the visual and the chemical examinations. Your urine may be examined under a microscope if there is an abnormal finding in one of the first two phases listed above or if your doctor specifically requests it.
During the visual examination of the urine, the healthcare professional may look at the urine's colour, clarity, and concentration. Urine can be a variety of colours, most often shades of yellow, from very pale or colourless to very dark or amber.

Unusual or abnormal urine colours can be the result of a disease process, some drugs or foods. For example, some people produce red-coloured urine after eating beetroot. The colour is from the natural pigment of beetroot and is not a cause for worry. Red-coloured urine can also occur when blood is present in the urine, and can be an indicator of disease or damage to some part of the urinary system.

Blood can also be a contaminant that gets into the urine unintentionally during collection, such as from haemorrhoids or menstruation. Once this contaminating blood is in the urine, it will be detected during the chemical phase of a urinalysis, and your doctor will initially assume that it came from the urinary tract. The importance of blood in urine is discussed further in the chemical and microscopic examination sections.

The depth of urine colour is also a crude indicator of urine concentration:

Pale yellow or colourless urine indicates dilute urine where lots of water is being excreted.
Dark yellow urine indicates concentrated urine and the excretion of waste products in a smaller quantity of water, such as is seen with the first morning urine, with dehydration, and during a fever.

Urine clarity refers to how clear the urine is. Usually clarity of the urine is reported as: clear, slightly cloudy, cloudy, or turbid. "Normal" urine can be clear or cloudy. Substances that cause cloudiness but that are not considered unhealthy include mucus, sperm and prostatic fluid, cells from the skin, normal urine crystals, and contaminants such as body lotions and powders. Other substances that can make urine cloudy, like red blood cells, white blood cells, protein or bacteria, indicate a condition that requires attention.

Urine colour and clarity can be a sign of what substances may be present in urine. However, confirmation of suspected substances is obtained during the  chemical and microscopic examinations.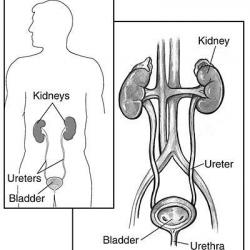 View More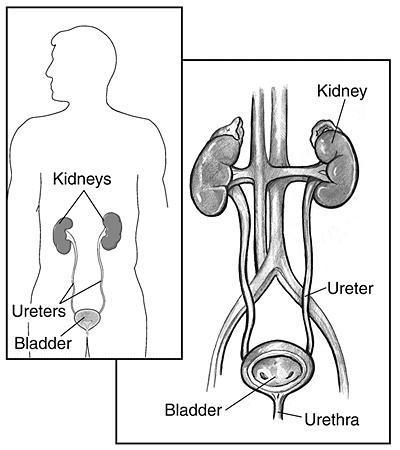 A normal urinary tract with kidneys, ureters, bladder, and urethra, Source: National Institute of Diabetes and Digestive and Kidney Diseases