Also Known As
Liver Function Tests
LFTs
Liver panel
Hepatic function tests
This article was
last reviewed
on
This article was
last modified
on 18 May 2021.
When you have symptoms of a liver disorder such as jaundice or have been exposed to substances that can cause liver damage such as a paracetamol overdose, or routine monitoring of many medications
A blood sample taken from a vein in your arm
The liver is a large organ located in the upper right-hand part of the abdomen behind the lower ribs. It takes up drugs and toxic substances from the blood and renders them harmless. It produces proteins, including enzymes and blood clotting factors, helps maintain hormone balance and stores vitamins. The liver produces bile, a fluid that is transported through ducts to the gallbladder to be stored and then to the small intestine to help digest fats.

Liver disease can be detected, evaluated and monitored by combinations of up to five tests measured at the same time on a blood sample. These may include:
Other tests that can help to assess the liver include gamma-glutamyl transferase (GGT), prothrombin time (PT), P3NP, ELF and sometimes urine testing.
On This Site
Tests:  ALT, ALP, AFP, AST, Bilirubin, Albumin, Total Protein, GGT, Prothrombin Time (PT), Hepatitis A, Hepatitis B, Hepatitis C, Emergency and Overdose Drug Testing, Ethanol, Paracetamol, SMA, Drugs of Abuse Testing, Copper, Caeruloplasmin, Alpha-1 Antitrypsin, Ammonia
Conditions: Liver Disease, Jaundice, Hepatitis, Cirrhosis, Haemochromatosis, Wilson Disease
Elsewhere On The Web
British Liver Trust
British Society of Gastroenterology
View More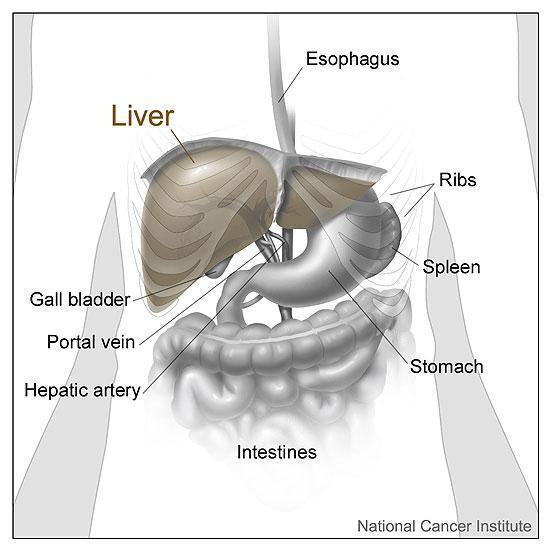 Source: National Cancer Institute, Illustrator: Don Bliss, 2001